Oh, the weather outside is frightful, but the fire is so delightful… So begins a classic old song that is one of scores that pay homage to the humble fireplace. And why not? There are few things as satisfying as snuggling up in front of the fire when the windows are frosted over and the snow is piling up outside. Not just any old hob will do however. It has to be one that fits in with your budget, your desired level of engagement and most of all, your decor. You actually have a surprising number of options when it comes to fireplaces these days and that's a very good thing. Because you're assured of finding one that will be a perfect fit.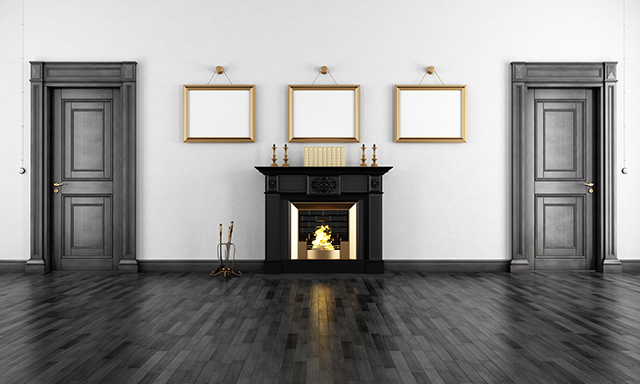 Finding the Right Fireplace
When the wind comes whipping down across the northern plains Piedmont, SD and Rapid City, SD are some of the coldest places in North America. It's vital to have a fire that works effectively for just such times. Below we'll take a look at the various types of fireplaces and the things you need to consider before choosing one for your home.
Wood - Wood is the perennial favorite from sea to shining sea because it has thousands of years of history and tradition on its side. And let's face it: even though it can be labor-intensive in the sense that you have to get up and tend the pile, that brings with it its own type of satisfaction. So it's hard to beat a wood burning fire no matter how you look at it. It has the visual punch, the aesthetic punch, the traditional advantage and it's fun to poke around in the fire a bit too. In an unpredictable world a traditional hearth can be as reassuring as meatloaf and mashed potatoes. And that's saying a lot.
Pros
An aesthetic winner in virtually every category
The sweet smell of burning wood adds an unbeatable aura to a home.
Centuries of history and tradition on its side.
Can be designed to fit in with virtually any decor.
Cons
They're actually not that great at heating your house.
Chimneys tend to get clogged with creosote and other byproducts.
You'll need regular fireplace service.
Obtaining enough quality wood isn't always easy or cheap.
Wood burning fireplaces can be of the built-in masonry variety or free-standing metallic jobs. They can be single or double sided or even allow for 360 degree viewing. Just make sure the style and materials don't clash with the existing materials or design of the room.
Gas - Gas doesn't require a chimney which is bad news for raccoons but good news for you. What you gain in convenience however you lose in experience as there are no logs to tend and no smell of burning wood drifting through the house.
Pros
Sit down on the sofa with your sweetie, push a button and voila! Instant fire.
There's no clean up involved. Just turn it off and go to bed.
No need to build a chimney to accommodate smoke and other wood burning byproducts.
Relatively easy to install.
Cons
Sure it's warm but no matter how hard it tries it will never be 'traditional'.
What shouldn't be overlooked is that gas is often a perfect match for more contemporary decor.
Electric - Let's be real. The electric hob is not really a place for fire at all because there's no fire involved as there is with wood or gas. Instead what you get is the appearance of fire. While that's just fine for some folks, purists are not likely to be impressed. Still, electric has a few things going for it.
Pros
There are no toxic fumes involved of any kind.
100% of the heat generated by the electric coils is pushed out into the room.
You won't spend a small fortune on wood.
You can move it from room to room with ease.
Cons
As hard as they try refracted light "flames" are still just refracted light.
Your electric bill is going to take a hit during the coldest part of the year.
When the power goes out your "fire" goes out too.
While the quality of the electric experience can't compete with wood or even gas, there's a lot to be said for the design flexibility provided by this appliance. You'll also never have to call for fireplace repair!
Pellet Stove - The pellet stove produces actual flame which is always going to appeal to traditionalists. The flames though tend to exist in a world of their own. Often there aren't even any fake logs to provide the illusion of a traditional hearth; just flames. And that's fine for most people. The real selling point of the pellet stove is the fact that it doesn't waste primary resources and they require very little by way of fireplace service.
Pros
A pellet stove actually produces decent space heating compared to wood.
Pellet stove inserts fit easily into your existing opening.
Pellets burn efficiently and produce very little waste.
What waste there is collects in the ash pan under the fire.
They're relatively easy to install and don't require much fireplace service.
Cons
There's something brutally efficient about them that purists probably won't like.
Pellets can be expensive and can require a lot of storage space.
Pellet stove fireplaces come in a variety of designs and can be either free standing, purpose built or inserted into your existing Rapid City, SD hearth. This means you'll have plenty of ways to adapt them to the surrounding decor.
Conclusion
Finding a fireplace that will fit in with the rest of your decor isn't easy but it doesn't have to be like pulling teeth either. If your Piedmont, SD home is a traditional design you'll probably want to start by considering a wood burning hearth. If your decor is more eclectic you'll have plenty of other options. For first class fireplace service and fireplace repair talk to the pros at L&M.