When you decide to add an outdoor fire pit to your yard you're making a decision to ramp up the visual appeal, sociability and yes, value of your property. Fire pits never fail to impress guests and are always the center of attention when things wind down after a big holiday get together. There's just something about sitting around the fire in the cool air with the stars twinkling overhead and amidst the peace and quiet of the South Dakota night that touches some ancient part of our spirit and speaks to the wonder of nature. Yes, the outdoor fire pit is a feature for the ages, but it's not one you can just place anywhere or use anytime due to local fire rules and regulations.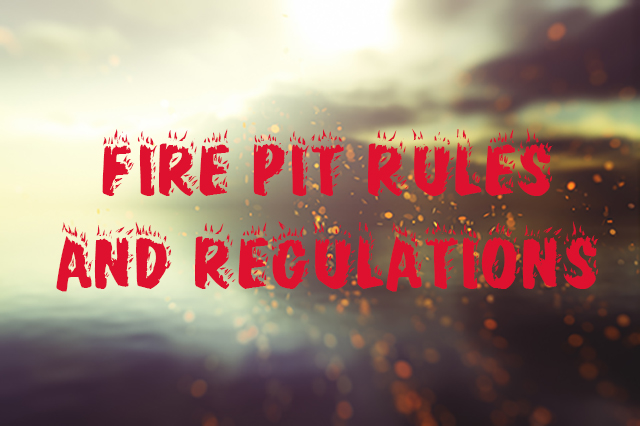 Things to be Mindful of Before Installing Fire Pits
Just because Piedmont, SD and Rapid City SD are not the big apple doesn't mean they don't have outdoor fire rules and regulations in place. In fact, in a place like South Dakota those rules and regulations are perhaps even more important than they are in a big city. So here are some regulations and ordinances you'll need to be aware of before installing your outdoor fire pit.
Local Fire Regulations in the Rapid City Area
The Fire Container - Local ordinances state that your fire container needs to be in good overall condition and made of a material that won't burn. That actually provides you with plenty of design leeway because it includes everything from a sand base with a ring of rocks to a high polished copper bowl set on stainless steel legs. What the local fire department doesn't want to see are tree roots in that sand base, a wooden frame holding that copper bowl or overhanging vegetation.
The Fuel - Local ordinances state that if your pit is a pre-made appliance you should use the fuel it was intended to burn (propane, natural gas etc) and not try and force it to burn inappropriate fuels. If your pit is more just a place to burn stuff rather than an appliance then you should only use dry firewood that's been cut or split and never burn whole branches or grass. Also, it's strictly forbidden to burn trash or yard waste in a pit. And one last thing; any wood stack must not exceed 3 feet in diameter and 2 feet in height.
Location - The outdoor fire pit must be located 15 feet from other features in the yard that are flammable. That includes wood retaining walls, wood decks, trees large or small, overhanging branches or anything else that could catch fire. This of course means that if you want to surround your pit with seating that seating will either have to be more than 15 feet from the fire itself or be made of non-flammable materials such as stone, concrete, plastic or stainless steel. You should also locate the fire pit in a place where any smoke isn't likely to bother your neighbors. Because if they complain you'll likely be asked by the boys in blue to put out the fire.
Safety Considerations - Besides making sure your fire is at least 15 feet from any flammable features local ordinances require that someone be on hand at all times who is fully capable of extinguishing the fire if the need to do so arises. Typically that means there must be an adult on hand and that there should be a bucket of water or fire extinguisher or connected hose in within arm's reach as well. The local authorities are sticklers about these things so ignoring the rules could result in an order to remove your pit.
Burning Bans - If the weather in Rapid City, SD or Piedmont, SD happens to be too windy, hot or dry it's likely there will be a burning ban in place and local officials on the prowl looking for violators. Burning bans in this area cover things like outdoor fireplaces, recreational fires in parks and fire pits. Keep in mind that you are personally responsible for any and all damage that may result from a fire in your yard. And if the fire should spread and require the intervention of the fire department you may also be held responsible for any firefighting costs that result. If you're not sure whether or not a burning ban is in place check with the local fire station.
Should You Have a Portable or Permanent Pit?
One way to easily deal with the many rules and regulations imposed by the local powers that be regarding open fires is to have a portable fire pit. You can be sure it will be made of non-flammable material, you can place it wherever is best as determined by the direction of the wind etc and the fire can be quickly extinguished if need be by just turning the switch. Also, you won't have to worry about winter time care and maintenance as you just wheel it into the garage when the weather gets cold.
General Safety Tips for Your Pit
Fire safety is a major concern for all levels of government and all are largely in agreement that anyone entertaining the idea of a backyard fire should take heed of the following tips:
Always check the direction and intensity of the wind before lighting a fire.
Don't wear loose or flammable clothing when working around an open fire.
Don't try and jump start a wood fire with gasoline or lighter fluid.
Try to avoid softwoods that "pop" and shoot sparks, especially in dry conditions.
Be aware of where the kids are at all times when the fire is active.
Keep in mind too that you'll need to make absolutely sure the fire is completely extinguished before you retire for the night. No buts.
An outdoor fire pit can really activate your backyard and turn it into a place everyone wants to be, rather than that place everyone looks out at from the kitchen window. For more information regarding fire pits give the pros at L&M a call today.