Modern life is a mixed bag of technological wonders and work-related stresses. It's more hectic and demanding of our time than ever before and that fact only points up the need for the home to be our sanctuary. Certainly things like an entertainment center in the basement, a backyard deck where you can unwind or even an inground pool where you can wash away the cares of the world while getting some much needed exercise are all outstanding and valuable additions to the modern home. But there's another component of the contemporary yard that shouldn't be overlooked or dismissed: the outdoor fire pit.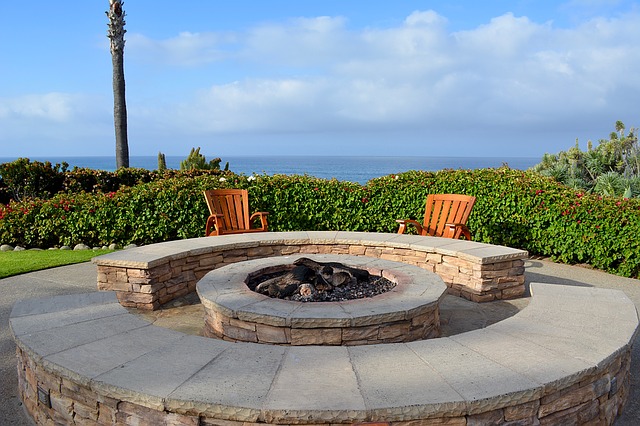 The Many Benefits of the Outdoor Fire Pit
If there is one undeniable trend in homeownership these days it's this: people are staying put longer and looking for ways to make their home a more comfortable, enjoyable and rejuvenating place to be. For some that means installing a hot tub. For others it means landscaping the yard. One potential addition to the backyard milieu that should never be underestimated however, is the fire pit. Here are 9 good reasons why you should consider installing one in your yard this year.
Beauty - This one is simple. A well-conceived fire pit is a thing of beauty that speaks to some primeval collective memory from eons past when prehistoric peoples gathered around the fire at night to tell tales of their exploits and relax after a long, arduous day. When your fire pit is designed by professionals that know exactly how to integrate it aesthetically into the landscape it will not only feel right, it will look right as well.
The Enhanced Holiday Experience - Holiday barbecues are great fun but they tend to fizzle when night sets in. Sure, there are always a few hardy souls that hang to the end but most folks don't see the point of chilling in the yard in the dark. Install a fire pit however and watch how many of those friends and neighbors are willing to push the time envelope so they can commune with you around the fire.
Keep Looking Up - If there's one aspect of human nature that's fallen victim to the modern world it's that we no longer have much of a relationship with the night sky. This is a shame as the celestial show in a place like Piedmont, SD or Rapid City, SD can often be spectacular, if we take the time to look up. Installing a fire pit is a great way to encourage folks to spend time in the yard at night and reestablish this relationship between ourselves and the universe we inhabit.
A Great Excuse to Go Outside - Regardless of how spectacular the landscaping in your yard may be, how large and inviting the pool or how compelling the outdoor kitchen looks people still often need a bit of a nudge to get them to step out of the comfort and security of the home into the wide open spaces. Think about it this way: You go to your friend's house for a holiday barbecue. Now it's late and most everyone is inside. Which of these two invitations from your host are you most likely to respond positively to: "Let's have a drink on the patio" or "Let's go spark up the fire pit"?
Increased Home Value - Installing an outdoor fire pit will ramp up both the aesthetic value of your property (its 'curb appeal') and its bottom line value. If you are planning to sell your home having a fire pit in the yard can be a major plus that attracts buyers who might have otherwise been on the fence.
That Warm Fuzzy Feeling - If you have a pool in the yard and adequate backyard lighting you likely go for swims after dark. Chances are you also have guests over to enjoy the pool with you. While the night swim experience is already a pretty special thing (especially if the pool itself is lit from within) things can be enhanced even further with the addition of a fire pit adjoining the pool area. Imagine emerging from the pool into the cool night air and then sitting down next to the fire pit to enjoy the stars and warm your bones.
The Finishing Touch on the Landscaping - Pathways made of interlocking pavers, flowering trees, focal points, water features, LED lighting and more are all landscaping features that can help turn a yard into an aesthetically cohesive and engaging place. But few things will help tie all the disparate elements together quite as effectively as a professionally designed and built fire pit. It's part focal point, part transitional element, part unifying element and part practical element. It does it all and is great fun to boot.
They Don't Have to Burn Wood - When they think of the outdoor fire pit most people think of wood. As in chopping wood, buying wood, working the fire so that the wood is burning efficiently and so on. You know, all the things that come with the wood fire. But if that all seems like too much hassle for you then forget the wood and have L&M install a stunning, practical gas fire pit on your property instead. All you'll need to do is flip the switch and voila! Instant, enduring atmosphere.
Gas Pits are Clean - If you have a gas fire pit installed in your yard you'll enjoy all the benefits of the fire pit and won't have to worry about cleaning it out after every use. You also won't have to worry about breathing in the smoke when the wind changes direction, or sparks landing on you while you're trying to relax.
The outdoor fire pit is one of the simplest yet most compelling ways to transform the experience of your yard and is an affordable landscaping element everyone will enjoy. Talk to the pros at L&M about having a fire pit installed on your Piedmont, SD or Rapid City, SD property